Thanks to the neglect I have shown to my hair, I lost from .25 to a full inch of hair. It was painful when I had to get it cut, but I survived. I went to a natural hair stylist to get it cut. In the mist of the pity party I discovered a new product that my hair loves! When I say my hair loves it, I mean when I wash it my hair is instantly more manageable and soft. I used the Olive You Hair Cleanser to wash my hair.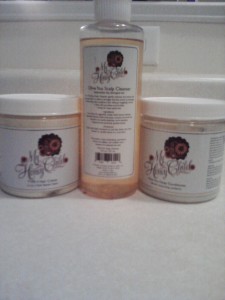 I deep conditioned with Olive You Deep Conditioner and combed through while it was wet. I sat under the dryer for about 15 minutes and rinsed the conditioner out and my hair felt GREAT! I moisturized and sealed a small section at a time with my new moisturizing creme (Type 4 Hair Creme) and shea butter. When I got to other sections of my hair I noticed that even though it was dry it was still soft and curly. I decided to continue to twist my hair instead of doing a wash and go. But it was so defined after moisturizing and sealing, I could have done without the twist.
I must admit the price was more than what I wanted to pay for hair care, but after witnessing first hand the benefits, I decided it was well worth it for my hair! I will continue to use this line. You can actually buy the products online at www.myhoneychild.com.